Podcast Interview – "Birds Eye View" with Nicole O'Sullivan, Nini Tolson & Daniel Tolson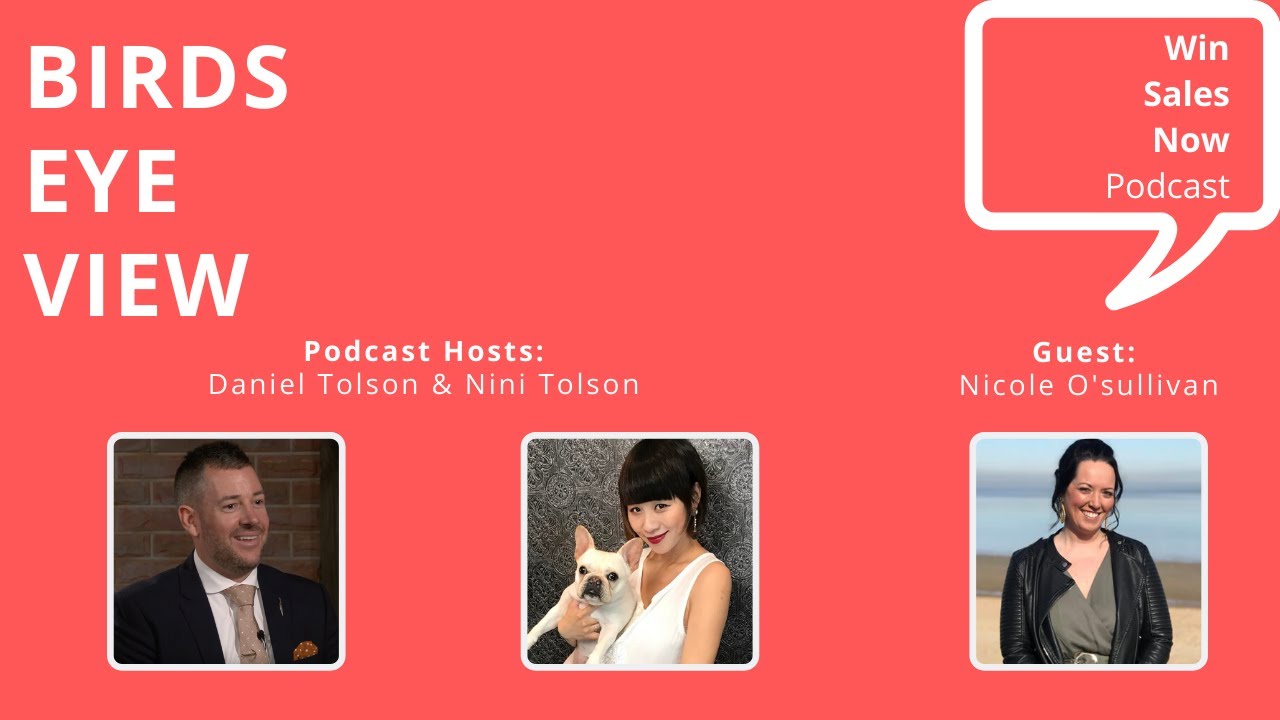 In the past weeks we've witnessed a level of mass hysteria that exceeds anything before in my life.
Yes, I'm talking about the toilet paper epidemic that's seemingly spread from Australia all around the globe.
Supermarkets worldwide are struggling to fulfill demand as doomsday preppers stock up on this essential, life-saving item.
Jokes aside, the financial impact for many businesses has been crippling.
I
n particular, the travel industry has been hardest hit, with thousands of flights canceled and tourists stranded or quarantined.
There are important lessons to be learned here.
To travelers, it's irrelevant whether the risk of infection is low or the symptoms of Coronavirus are no more severe than other cases of flu.
Fear has set in, fuelled by a global media frenzy, and customers are heading for the nearest "exit".
To businesses, what matters most is identifying how their customers perceive reality, then developing strategy to get "ahead of the game".
Our podcast guest today is an expert at influencing the perspective and mindset of business owners and salespeople in the travel industry.
Nicole O'Sullivan, founder of Birds Eye View Consulting, is a 13 year veteran of the industry and former team leader within Australia's biggest travel franchise, Flight Centre.
Nicole has gone on to head up business development strategies for the USA's fastest-growing travel consulting firms.
In her mind,
there has never been a bigger opportunity for travel businesses to differentiate themselves from their competitors
than right now.
"Travel agencies everywhere have a choice. They can either let fear set in and allow their customers to go into panic mode, or they can rise to the challenge and take care of their customers better than anyone else."
Daniel Tolson:
Ladies and gentlemen, good morning, good afternoon, and good evening. Our guest today is one of Australia's most successful travel agents, working with thousands of customers globally and showing travel agents how to build sustainable businesses. Today she's going to show you how to get a bird's eye view on your business. Please put your hands together and help us welcome to the Win Sales Now podcast, our good friend Nicole O' Sullivan.
Nini Tolson:
Welcome, Nicole.
Nicole O'Sullivan:
Thank you so much. Hi everyone. Thanks for having me.
Daniel Tolson:
Thanks for joining us. We're in Taiwan today, you're in California.
Nicole O'Sullivan:
I am in California.
Daniel Tolson:
And over the past 13 years, you've been traveling the world. You've also led some of the highest performing sales teams in the travel industry in both Australia and in the USA. So how does a girl from Australia make it big in the USA? And what are some of those personal highlights on your journey?
Nicole O'Sullivan:
Yeah, thanks. Well, the accent definitely helps in the USA, that's for sure. But I think for me it was really understanding that when I was working in my business in Australia, I felt such so much of a small fish in a very, very large pond. And the disciplines that I started to do on a day to day basis that I subconsciously just did it and I didn't realize that they were really effective. Then when I came to the USA, I was automatically now a big fish in a very small pond. And all the things that I just did naturally and were disciplined to do in my business, the guys over here, it was very clear that they didn't have that structure in the process. So I became a little bit of a Pied Piper that everyone started coming to my office and asking me how to do a business plan, how to run a morning meeting, and all these things. And I was like, "Oh, this is a really awesome opportunity that I can really help some businesses turn around very quickly." So that was really what helped me climb the ladder very quickly over here.
Daniel Tolson:
So thanks to a Crocodile Dundee years ago they became familiar with the accent. Steve Irwin, crikey, I know that we go to America, they love to practice that on us. G'day, mate.
Nicole O'Sullivan:
Yeah. [inaudible 00:02:15] throw a shrimp on the barbie, that's always a good one.
Daniel Tolson:
We don't have shrimps. We've got prawns.
Nicole O'Sullivan:
Yeah, exactly right. Exactly.
Daniel Tolson:
Being that you've been over there, what are some of the highlights with the teams? know that there's been some big numbers there, some turnarounds in those businesses. What improvements have you seen in these American businesses with your strategies that you're implementing?
Nicole O'Sullivan:
Well, I think the strategy is just really keep it simple. So I have a philosophy or values around one, number one is always my people in my team. And then it comes your customer. I know we always talk about customer always comes first, yes, but our people come first. Because if you look after your people, they look after your customer. And I've always lived by that philosophy, and it's really in dividends for me. Because I really spend the time to understand my people. So I guess what are things that are my wins is really about digging deep and understanding their behaviors and their beliefs. If I can give you a quick story, one of the teams that I turned around very quickly and got some incredible results was because I walked into a team that were an online team. So all they took was online chat, so chat customers, and 1-800 calls. That's all their customers. They never had any face-to-face walk-ins. And so with this team, they were taking the most amount of inquiry in the United States within this organization. However, they were the lowest converted. I think they were converting anywhere between two to five percent of these leads.
Nicole O'Sullivan:
So, these guys were defeated. They felt that these customers were just not serious and they weren't ready to book and they just were wasting their time. And I had to come in and I had to realize very quickly that a belief is not something that I can change somebody's belief. I can influence it, but I can never change that. And I learned that very quickly in my career that my job as the coach was to influence their mind on how their opportunities could be better for them. And that at the end of the day, I had to remind them that they weren't standing out on the curb with a sign that says, "Hey, did you want a vacation?" They're actually calling us and they're contacting us. So it was just that flip of the mind, and we went from the worst performing business in the United States to the number one most improved within six months. So it was a pretty great story. And I mastered that down to my people and believing in them and knowing that I could influence their mindset about the customer. Because if they didn't, we weren't going to go anywhere.
Daniel Tolson:
Phenomenal. You know, Jay Conrad Levinson, he wrote a very good book called Guerrilla Marketing, and he says that every world champion has a coach. So all of your teams, they want to be world class. You've taken them from one of the worst performing businesses to the top performing companies in America. Can you talk us through some of the challenges that other agencies and travel agencies are going through right now? What problems are they facing in their businesses?
Nicole O'Sullivan:
Well, right now it's coronavirus isn't it really? It's crippling. It's absolutely devastating the travel industry and...
Nini Tolson:
He's wearing a mask.
Nicole O'Sullivan:
Yeah, exactly. I'm glad you got your mask [inaudible 00:05:31]. But I guess this is something that the travel industry has not not seen before. This is something that... We get roadblocks all the time, and it's really about how you tackle it. Do you let fear set in and do you let your customer feel that they're in panic mode? Or do you start to rise up and show the value of why you are the expert and why you are looking after your customer? So this is something that... We've gone through 9/11, we've gone through Zika virus, we've gone through SARS, we've gone through all of these things that... Unfortunately right now, what's fueling this is media. And this has created hysteria across the globe, which is quite crazy. I know I've seen some things in Australia where there's not even toilet paper on the shelf right now. And it's like what is going on?
Nicole O'Sullivan:
But in all honesty, what we can do as a travel expert is to say to a customer, "I'm confident that I know that I'm looking after you. If there's an alert, you're the first to know." Let's be proactive and make sure that we're calling our customers and telling them, "Hey, I've got you in my mind, don't you worry. This is going to be okay. I've got your back. This is why you book with me." And that's what you need to instill is go back to our values about our people and our customer and let them know that we've got this. This is going to blow over just like everything else has, and everything will be okay. Let's not react, let's be proactive. So I think that's definitely my biggest tip at the moment.
Daniel Tolson:
And maybe part of the upsell could be a roll of toilet paper.
Nicole O'Sullivan:
Yeah, I did hear today that it was on eBay, a roll of toilet paper in Australia for $1,000. So it's hot to trot at the moment.
Daniel Tolson:
It's incredible how the world responds. Here in Taiwan, all the masks disappeared. The toilet paper disappeared in Hong Kong. And one of my friends said he'd ordered toilet paper in January and it didn't arrive till late February. And he was without a mask, and he said people just went bananas in Hong Kong. He said it was wild. He said he's walking around doing his normal thing and everybody's fighting over toilet paper.
Nicole O'Sullivan:
Oh my goodness, it's so crazy, isn't it? It really is. But anyway, look, it's something that this is just the travel industry. This is just the world at the moment that we live in that feelings is what people thrive off. And when we have uncertainty in the world, when we're so disconnected from one another because of social media and all those things, what the avenue that fuels it is fear. And so when fear can be flamed, look what it can do. Look, it's now a pandemic across the globe based on a little story that's been an outbreak that's really been blown out of proportion. You know, when you think about it, the flu kills more people than this has bloody done.
Daniel Tolson:
I said to Nini the other day, I said, "The next thing will be condoms."
Nini Tolson:
He already said this. [inaudible 00:08:27].
Daniel Tolson:
This was my prediction. I said, "Let's go out and buy a bunch of condoms, because the next thing will be there'll be off the shelf." And a couple of days later, sure enough, the same thing was happening. Somebody had said that condoms are running out and everybody ran to the store and started to buy them all up.
Nicole O'Sullivan:
Right. You could literally create anything, you could fuel anything if you really wanted to. And I guess that's the thing, right? News just wants to... The more you click, the more you share, the more you tune in, it actually gives them more ammunition. So please don't watch the news, please.
Daniel Tolson:
If it bleeds, it leads.
Nicole O'Sullivan:
If it bleeds, it leads, absolutely.
Nini Tolson:
Yeah. And Nicole, I think you really share some very, very good insight about that. So one of my question is what are you a top three recommendations for the travel agency who are struggling to achieve their goals at the moment? Yeah.
Nicole O'Sullivan:
Great question. I think if I could break it down into a couple of key takeaways, obviously, number one is your people. You've got to understand how you're setting them up for success every single day. So if you're not having daily meetings, especially right now with coronavirus around how do they feel confident in talking to a customer and making them not panic. So do a huddle and talk about what do we need to achieve today as a team and how can we help each other as a team to rally and unite and let those customers know that they don't only have you as an expert, but they have the whole team as a backup. So I feel like that's number one is how do you support your people and how do you support your team to really give that excellent service to your customer?
Nicole O'Sullivan:
Number two is really just identify those roadblocks. So like I was saying before about the beliefs, what happens is is when you have a belief, it can either be that prophecy, right? You say, "I believe this customer is wasting my time," my behavior then becomes I don't really put enough energy into it, so therefore the result is they don't book with me. Versus I go, "I believe that this customer is going to book today. Or I believe that this customer has got an opportunity to travel the world and do these amazing things. My behavior is I give them all these amazing great tips and tricks and really get involved. And the outcome is that they book with me." So really it is about that belief pyramid and identifying where your consultants are feeling those roadblocks. Your job as a coach is to identify the roadblock and help them get around it so that they can identify that they have got a roadblock. Roadblocks are all internal in our own mind anyway. I call it Jiminy Cricket that sits on your shoulder and tells you all the things you can't do. And as a coach and a leader, it's helping them see through that.
Nicole O'Sullivan:
And then I guess the last thing is don't be afraid of feedback. Because ask your customers what they think. Ask the customers what you're doing for them and what they could be doing differently. And feedback is always feedback. You don't take it personally. Sometimes it can sting, but it does help you to guide your business. If you feel like you're struggling and you're not getting the numbers or you're not hitting the profit, get curious. Why? Why is that? Get curious before you get furious is my saying.
Daniel Tolson:
I like that one.
Nicole O'Sullivan:
Yeah, there's always a method behind something. And if you just dig enough, you do find it. Don't get cross and throw your hands up in the air. I promise you there's a solution out there.
Daniel Tolson:
These are three very powerful tips that can be implemented by anybody anywhere.
Nicole O'Sullivan:
Anybody, yeah.
Daniel Tolson:
The people who need some help implementing these into their travel agency businesses, what's the best place to connect with you? Can they write to you on email to continue the conversation?
Nicole O'Sullivan:
Yeah, I'd love that. Yeah, the best place at the moment is my LinkedIn, so you can find me on LinkedIn, Nicole O'Sullivan. And I've got Bird's Eye View is my business, Bird's Eye View Consulting. I'm almost about ready to launch my website. It's about a week away, which is really exciting. So once that's up and running, it'll be Birdseyeviewconsulting.com. But that'll be about a week away. So what are we today? The third, fourth? Yeah, so maybe about the 15th is probably when it'll be up, so that'd be good.
Daniel Tolson:
Excellent.
Nicole O'Sullivan:
Yeah, reach out to me.
Daniel Tolson:
Well, it's been wonderful to hear these ideas and strategies. I can see there that we spoke recently, and one of the average transaction values of your customer has gone up by, how much was it?
Nicole O'Sullivan:
$1,500 in a month.
Daniel Tolson:
$1,500 in a month. So if travel agencies are looking at increasing their sales, increasing their profitability, improving the customer experience, improving the retention and the culture in the business, I recommend that you reach out to Nicole and she'll help you solve those problems, but also improve the average transaction value at the same time. So Nicole, thanks for joining us today and we'll see you again.
Nicole O'Sullivan:
My pleasure. Thanks for having me.
Daniel Tolson:
Our pleasure. Have a great day.
Nicole O'Sullivan:
Cheers. See you.