Why Business Leaders Must Empower Their Teams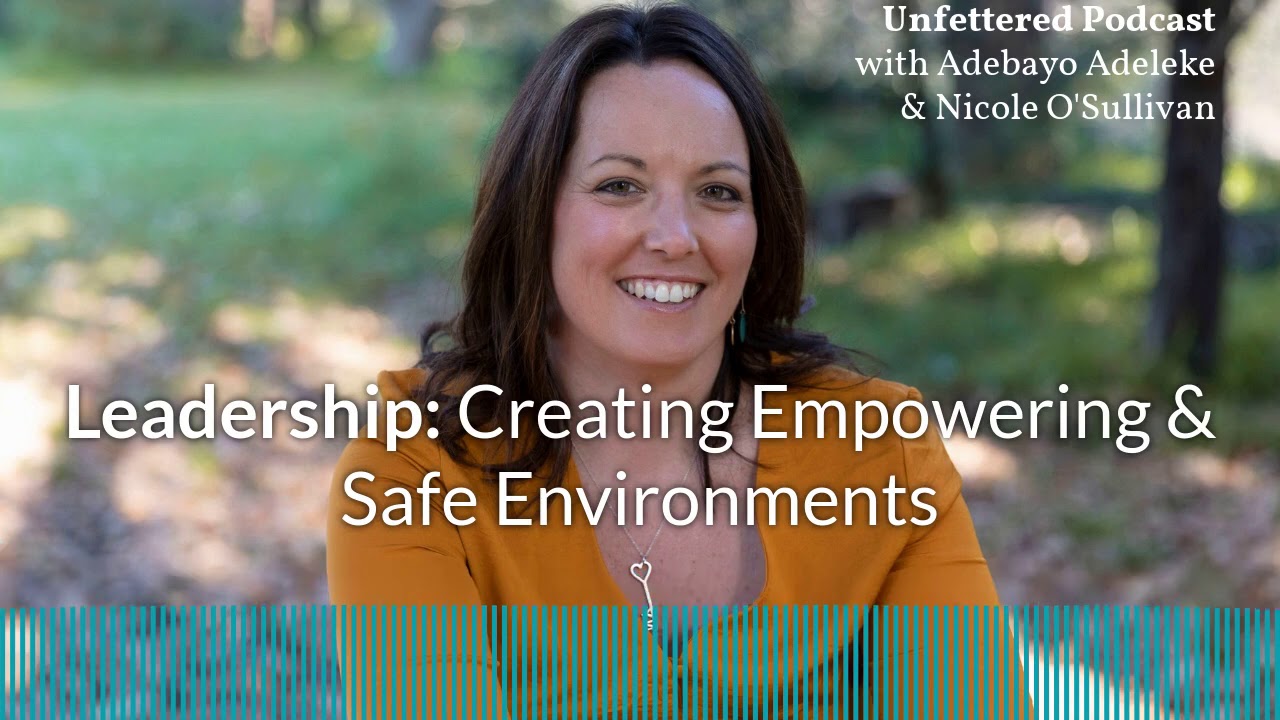 We live in a time where the need for passionate and humane business leadership cannot be overemphasized.
The latest research out of Harvard proves that empowering staff and creating safe environments for them to hone their skills increases productivity and efficiency.
In this interview with Adebayo Adeleke on the Unfettered Podcast, Nicole O'Sullivan shares her experience on turning around multiple businesses into profitable ventures using this skill.
Intro:
Welcome to the Podotron Network. Real Talk, unrestrained, undiluted, unfiltered, unfettered. You are listening to Unfettered Podcast by Adebayo Adeleke.
Adebayo Adeleke:
Welcome to Unfettered Podcast. My name is Adebayo Adeleke. I'm your host and today I have a wonderful friend who I called a wonderful friend. She came up to us across from the pond. I mean she's from Australia, the other side of the world. Her name is Nicole O'Sullivan and she is the President and CEO of Birds Eye View Consulting. Nicole has various unique and special skills that she's using to help businesses scale and she has done it in Australia and she's currently doing it in the United States. I'm going to put in the list the fact that she represents one of the key values on this podcast about deriving some of the values within yourself and making the world a better place and she's actually doing it and I was always done. I'm a firm believer that we all carry a special seed and those seed in us, a seed of gift that we can all be great in our world and Nicole has I mean, looking at what she has accomplished over the years, and she's just, she's an epitome of that in itself. So I'm not going to over pretty much out of Nicole. I promise myself not to add on later to the introduction itself. But with no further ado, Nicole, welcome to Unfettered Podcast, you have now entered your unfettered zone, you can, you are not censored, you can't pretty much censor you, you now can say whatever you want to say and nobody's gonna crucify you in the process. So Nicole, welcome.
Nicole O'Sullivan:
Thank you so much. Thank you for having me. It's an absolute honour to be able to be on your channel. So thank you for having me.
Adebayo Adeleke:
So tell us who is Nicole. Who is Nicole O'Sullivan?
Nicole O'Sullivan:
Who is Nicole O'Sullivan? Well, I've just started my business venture. This has been happening for about seven or eight months now. And how it began was that I have been primarily in the travel industry for about 13 or 14 years now. And I've been able to be very fortunate in not only getting to travel to incredible places in the world, I think I'm up to country 38 now, so which is kind of cool. I want to get to 40 before 40 that's the goal.
Adebayo Adeleke:
Wow.
Nicole O'Sullivan:
But in that journey, it's been a series of leadership roles, mentoring roles, connecting roles, customer service roles, there have been so many opportunities that have been thrown my way and I guess it's taking me a little time to realize what my gift has been, to be honest. So I feel like I have a great story when it comes to the businesses that I've worked in or ran or LED, and how I've been able to turn those businesses into profitable businesses in a very short amount of time, and how I feel like I've been able to do that is by really understanding my people and my customer. And, you know, I'm not a numbers-driven person, to be honest, I never have been. But how I've been able to get those results is not by me focusing on the number but keying into what is important to my people. So that's where I feel like I've started to master my craft in people's connection, people management. I'm now just accredited in DISC, and motivators in emotional intelligence, which I feel is starting to get some airtime out there now around how important it is to understand our people. Because if you want a result in your business, you're not going to get a result by pushing numbers down their throat. It's about how, what motivates them to get out of bed every day, what, you know what is going to help them feel like they're supported, and that they're contributing and that they're valued. Because when we look at that side of things, numbers will organically grow. So, yeah, I guess I've been very fortunate to start to work with some companies already, and in and getting some incredible results. But it's, it's come from that digging deep into people. And so yeah, that's kind of me in a nutshell, to be honest.
Adebayo Adeleke:
Wow, that's quite. Right, there's a lot to unpack.
Nicole O'Sullivan:
There's a lot.
Adebayo Adeleke:
In our previous conversation, and I mean, our listeners are not privy to it. But you mentioned that I mean, look at your resume, you walked in the flight industry for quite some time. Now, you've walked around a little bit, but at some point, you discovered that you have this gift that you can reach people that others cannot reach. And then and, and that is oftentimes a lot of people struggle. A lot of people live their lives without realizing their gift and the seed within them. Oftentimes, during my coaching and during my consulting work, the first question I always ask people is that have you done yourself evaluation? Have you? Have you sat down and do your inventory to see who you are as a person. Oftentimes, we, we always just literally live by living what other people's lives. They want us to be saddened. They want us to be teased. They want us to be that but most of us haven't sat down and look at how we fit into this five brick wall. This is this wall down. It's five bricks, you know, how do we plug into this wall? I'm here on the surface because of one particular reason there's a purpose for me being here. Am I living my purpose? Am I getting to that level that is expected of me and like I said, often lives, we leave our lives. People turn to 70, 80, 90 without actually living the purpose of their life without actually making sure that this is what I'm supposed to do. This is the gift therein, and I'm supposed to help others within my world and we will let that light shine but you discovered it, and how did you stumble on this gift of actually reaching people in such a way that it cannot be rich?
Nicole O'Sullivan:
Yeah, you know, it's probably taking me a while to self recognize that that was my gift, to be honest with you, I think, you know, I just, you know, when when we get results that were outstanding each month than the profit that was, you know, world record profits. And, you know, people would say, What are you doing? Like, how are you getting that? And I'm like, I don't know, I don't and, you know, it took me a little while to, to get that and, you know, honestly, like, I, I split my 13 years, I did five years in Australia, and I did nearly six years in, in the USA, then I went back to Australia for a couple more years. But you know, I think that when I moved to the US, I felt like that it shifted a little bit. I think that you know, in the organization that I was in, in Australia, it felt that you were a little fish in a massive pond. And to be recognized and to be, you know, talked about in a way that I kind of was when I moved to the US was, was different, you know, you had to be, it was all numbers-driven, if you were the top producer, then you'd be talked about, but if you were getting everybody on your team to be even and you, you know, work together as a team and got the result, we weren't really shouted out, or no one recognized your skills, you know, and then when I moved to the US, it was, you know, I thought I can make a difference here, I feel that the skills that I know and the processes that will help support people will make the impact and that's what I did. And I just started to really hone in on that not I didn't even realize at the time but people were listening in to my calls and they said, I think you'd be great at a sales coaching role and I was like, okay, all right. And so then I guess I, I embarked on that and that was when it hit me. This is my purpose, this is my life, this is what I have been born to do. I am here to help to connect with people and realize their, help realize their potential. And, you know, I've had conversations with people who are in their 70s, who have said, you've changed my life. And I'm like, so you know, it's not about fate or anything, but just getting curious about your people and, and what, what's their story? And let's find out, like, everybody's got such a unique thing to say. And I think if we spend time with that, and why they're doing what they do every day, then that's where the magic is, you know, it's not about pushing them and saying, we need this revenue today and we need to hit these numbers. It's about you've got to have high expectations. People need to have expectations, but you would have to match that with support. You can't have both. You can't, you can't, sorry, you can't have one without the other. You can't have high expectations with no support or you can't have high support with no expectations. It has to be a balance, you know?
Adebayo Adeleke:
You cannot, you cannot have high expectations without support, or you cannot have high support without expectation. I haven't heard that in that said, in that form, form before. And so you discover these abilities to reach people in such a way and in such a manner that speaks to their core and you cannot influence them to do what they're doing and doing initially, right?
Nicole O'Sullivan:
Yeah, definitely. I think it's also being about really honest. I'm a very honest person, sometimes to the detriment of myself, you know, sometimes I'm a little bit too. Yeah, I think you should do this. And you know, but I think as you said before, your emotional intelligence does take a big play and I think I've mastered the social awareness and social regulation. I think that's my, that do not think I know that's my strength. You know, but I'm working on my self-awareness for myself and my self-regulation. So that I can give myself a little bit of love back because it's like, I'm feeling a lot of cups up, but I'm not giving myself some love. So I think it's about, you know, understanding that balance you know and, you know, I'm, I'm almost 40 but you know, it's getting to that stage where it's, that's the time of my life where I'm starting to realize that and get that balance back about my expectations on me and I think it's about being vulnerable. You've got to, you've got to show your vulnerability to people, for them to understand that you are a genuine person and you genuinely care. And when that message comes across, I think that if anybody who has ever worked with me would say that we just feel so comfortable with you. And we just feel like, yeah, we've known you for a long time and I don't know how that comes about, but and I can't tell you how many times someone said that to me. So, you know, I think that that's important to connect to that and yourself because if you can know you, then you can know anybody.
Adebayo Adeleke:
Yes. Oh, wow. That is, that's so awesome because, you know, dealing with people is one of the most difficult tasks you can ever give to a man. That's why leadership despite that it has been a risk, I mean value the most researched concept or word in the last hundred years is still difficult today. Managing people is, is on a trillion task is difficult. And that is why when you manage people, you expect more money because besides doing your technical work, you have to manage people within, it kind of complicates to your matter because imagine, you have to rely on people to do to carry out certain tasks, which is tying into your task and that can be complicated because you know yourself, you know your capability, you know your threshold, but you don't know if that will matters.
Nicole O'Sullivan:
Yeah.
Adebayo Adeleke:
You don't even know if does gonna mess with y'all. So oftentimes, you know, managing people or interacting with people is probably one of the most difficult things one can encounter in the community or the workplace and that ability to be able to reach people because we're all different, we grew up differently, we exposed to different experiences growing up, and we found our own opinion, we formed our kind of talents that we, we follow daily, and that in itself, some are good, some are bad, for my moral skills, and whatnot. But that's in itself, kind of, what I form, what is my, my moral code might be completely different from that on the core and oftentimes when we interact those moral codes tends to collide, and oftentimes will which will result into conflict. So and I know you've worked and I want to, I want to hear about two or three stories or some of, some of your greatest joy in the ability to connect with people. I want some of the greatest joy or conflict that you've experienced that shook you a little bit. If you have anyone or those of who you, are you willing to share.
Introducer:
You are listening to Unfettered Podcasts by Adebayo Adeleke.
Nicole O'Sullivan:
I've been so fortunate, like I said, with, with the journey that I've been on so far, and you know, I guess, look, you know, I've run teams that have meant so much to me, because of the way that we spent the time to get to know each other, you know, I did have was tasked with a team that you know, when I was in New Jersey that was, you know, a very low performing team, they had the most amount of inquiry per person per day in the whole company but they were struggling to connect with the customer and struggling to convert those leads. And you know, we, I had to change them, well let's be honest here, you can't change someone's belief. It's about influencing belief because belief is personal, right?
Adebayo Adeleke:
Yeah.
Nicole O'Sullivan:
So, I had to understand their belief system around these customers and you know, unfortunately, at that time it was they didn't believe that the customer was serious, or they didn't believe that the customer was, you know, willing to book or that they were just going to take their information and booked it online themselves. And that was their belief. And that made sense as to why their results were the way they were. So this is what we talked about. It's all about people's belief system when you can understand what their beliefs and behaviours are. That's why the results are or are not what you want them to be. So I had to go in and we had to workshop those beliefs and influence the reasons why customers reach you at this hour or why they ask you these questions or, you know, and get curious in that space instead of furious, you know, we're getting furious at these customers, we think they're wasting our time. But actually, well they're asking for you for a reason. So this team we, within six months, I turned that team around from the worst-performing in the country to the number one most improved in the country.
Adebayo Adeleke:
Wow.
Nicole O'Sullivan:
You know, it was, it was, it was such an awesome effort. And there was like, eight or nine of us on the team and you know to move that amount of people in that direction in such a short amount of time was a pretty awesome achievement. You know, I felt pretty proud of that, that we, we had turned that business around from, they didn't like coming to work, they were seeing they're pounding their keyboards, like, you know, versus now we're having parties, they were throwing streamers, and we're, you know, like this, it was such a fun environment to be around so and it showed in the results so that's a good news story that I can share. And you know, I guess personally, it's about being as you've said a little bit before about your morals and your compass. And you know, for me, I feel like when my compass is not aligned, you know, or my morals are not aligned and my values are not aligned. I struggle, it shuts me down. I don't know how to deal with it. I don't know how to navigate out of it. So instead, I just, you know, I shield my people. I always put my people on my number one value and it's really about I will take the brunt, I will take all the hits, and I'm not passing that on to my people. But in the meantime, what that does to me is it destroys me. So, you know, I have had instances like that in my journey that have done that to me and but I guess at the same time has helped me be who I am today because if I didn't have those and realize that these things are self-understanding of my, my behaviours or my, you know, things that knock me off-kilter, like if I didn't have that happen, then I wouldn't know or be aware of it. So, you know, I guess we all have these situations where, you know, it's not that the message is in line. So I guess you just have to make that choice which I did is to step away and just know that if you're doing something for yourself and not it's not always everyone cares at the same time because you always think to myself my biggest challenge is, what if I leave and then what is going to happen to everybody, you know, it's not my job to look after everybody. It's my job to look after myself. So and it took me a long time to understand that because yeah, I do, I do have a lot of care for a lot of other people. So you know, again, I feel like a grown-up now. I'm starting to get it. So, it's great.
Adebayo Adeleke:
That's, that was quite profound because oftentimes we get lost in the weeds of trying to help on as and we forget ourselves and I think that's what is expected and surely in the essence of you are a leader or you're kind of you, you subscribe to the servant leadership whereby you, you want others to progress but you kind of you know, put yourself, you don't want to put yourself in the limelight, you know, you wanted us to but at the same time, you have to take care of yourself. Like one of the group and always say that whoever is well is one that gives the blood, if you're not well enough, you can't give blood. Oftentimes, you have to save yourself before you save others. And, and that sometimes can sound selfish, but in reality, it is what we have to deal with, it's actually, it is the order of the day because how can you save others if you, yourself, are not well, you know, so it's quite to understand that even we, as we tried to help others and connect to put together to achieve a consensus. We have to make sure that we, ourselves, are well-grounded in what we believe in and oftentimes we live in a world that is quite globalized now that our value system differs. What we believe is quite, what do you think you believe in might not be what to what do others are believing, but how do you reconcile those and that's another thing in itself. You grew up in Australia, you live in Australia and you came to the US, and oftentimes the way we look at things differs, you know America is quite an individualistic culture.
Nicole O'Sullivan:
Yeah.
Adebayo Adeleke:
We have the same in Australia. I don't know much. If that culture is quite pronounced in Australia as it is in America, you know, and some of these value systems might collide because it just doesn't and I've seen it in Israeli as I said in multicultural environment value system do collide a lot. How do you reconcile it, knowing for you whether you have a job to do?
Nicole O'Sullivan:
Yeah, look, you know, I think when you have that vision of where you know you can get the team to I think it is really about you know, understanding cultures, understanding, you know, beliefs, to understand you know, I always when anytime I do a session with anybody it always start with the belief system, like, talk to me about what, what are beliefs, what does that mean to you, you know, beliefs are personal but we also have things called roadblocks. When you have a roadblock, which is, you know, your little Jiminy Cricket that sits on your shoulder that tells you all the things that you can't do, you know, it's about really identifying those roadblocks straight away because if you can identify that's roadblocking you what my job is to help you get around that. Because if you allow it to be a roadblock, you're never going to get the result that you ever strive for. And that could be anything from revenue, to buying a car, to taking a vacation, to losing 10 pounds, like it's anything, a result is anything you're striving to do. But, you know, we always create excuses as to why we can't and I feel like that does drive from or deep dives deep into our behavioural styles. It dives into our emotional intelligence, our you know, everything. I think that there's, there's so much in the mix there that again, it's really about deep diving into our people and sees where that is. And again, as you said, you know, yes, cultures are different, but people are people and it doesn't matter if you're selling a vacation in the United States or vacation in Australia, it's still the same, it's just, you know slightly you just have to adjust yourself and you have to be able to change taps now and again to mimic or help those customers or your people to understand their style and how they can interact and be better at communicating because I think we can be honest here and say that communication is dwindling. You know, the internet is taking over. I mean, look at the Coronavirus right now, I mean, this has blown right out of the water and, unfortunately now with social media in 2020 is that the more someone gets a hit online or news channel or somebody who's reporting the news gets a hit, they keep that momentum going, Oh, this is getting traction. This is you know, this is taking off as the travel industry. We all know we've been through these millions of times, you know it's through terrorism, through SARS, through you know, so many other events that you know, the Zika Virus you know all these things that hit us but now momentum with news and all that does fuel the fear and fear is an emotion and when we start to understand that we are driven by our emotions. That's, that's why it's getting taken off the way it has, you know, it's like now it's an epidemic all of a sudden it's like hang on, wait, what? Well, people die from the flu? You know what, why are we, why are we having such a panic here? You know it's, it's crazy to watch and that's what I mean, the connection is and communication is different from what it was 10, 15 years ago, you know.
Adebayo Adeleke:
Absolutely. We, we're now. I mean, some of this thing has been this, this Coronavirus has been politicized. A lot of things are being drawn out of it. I mean, people are, people are, people respond to fear more than anything else.
Nicole O'Sullivan:
True, yeah.
Adebayo Adeleke:
I mean, people respond to fear I mean, you talk about something scary something fearful people respond to it quicker than I think and fear rules. And you see it in politics and we're gonna see it in America this, this November. The politics of fame about June issues passing drink out of tactics from both sides about trying to win votes is about the politics of it. And you said it right on it's, it changes your perspective of things only affect the way we communicate. Well, that's awesome. So, I mean, there's so much to unpack and I know, this is not going to be the first and the last. We're going to talk maybe next time we'll do a webinar, kind of open grounds to people, young professionals about some of the things we've encountered over time, but if you can say like the top three lessons you've learned about connecting people that our listeners can, you know, can, can improve on in their ability that, that, that gift might not be to connect with people like you do but we all need to connect with people, either way, you know, not that I did, I level that you do it but some people at least in communication in dealing with family, friends, and dealing with coworkers, we have to be able to communicate with each other for unfolds we have to communicate, we have to connect at least at some level. So, what are you, what are the top three or top five you think everyone should at least be cognizant of when they're interacting with people?
Nicole O'Sullivan:
Sure. Look, I, the first thing is to listen, and when I say listen, it's really listening, you know, when you walk in, at the beginning of your day, are you're just saying, hi, I'm walking into a closed room office or you, you know, keep that goes into my number two, you know, it's about connection right? It's about knowing your people, know something about them, like you know, oh Tony's cat six. So you know, I want to go in and have a chat with Tony in the morning, hey, how's your cat going? And something that's what's one little thing that you know about your people when you have those conversations with them that you, it makes them feel like you are listening to them and caring about them. And you know, and then be genuine about it, you know, don't just be like, alright, cool, I have to make sure I go past Tony's desk and ask me about his cat, tick, you know, like, it's genuine feel. I think in terms of leadership like that, that speaks volumes. And when you can, you know, create an environment where, you know, people, you're, you're transparent, there are no secrets, there's no suspicion or doubt. I think that's, that's another thing that does, you know, destroy organizations or has people leave, you know, just always remember this that people do not leave organizations, they leave leaders, right? So you've got to then self-reflect. And I think that's probably my personalized tip and something that I do regularly. You know, there are many times that I drive home at night and my radio is off, and it's just me in the car, and I can just reflect. It's about reflection on you as a person, as a leader, as a mentor, it's about saying, if I, what could I have said differently? What could I have done to get a different outcome? You know, you're always constantly giving yourself some advice, because that's a great way of how you grow. And I think if I hadn't done that along the way, I don't know if I'd be here yet. You know, maybe I'd be there later, but I don't think I'd be where I am now if I was doing that, you know, eventually, but I think I've, you know, been able to skip the line, maybe because I've been very much honest to myself, and I think that's probably the golden tip there is be honest, and be honest with yourself more than anything because people will see that, people read that, they know that you're being truthful and not being truthful. So, yeah, and yeah, that'd be my tip.
Adebayo Adeleke:
Yeah, and this can be like you said, this being honest with yourself can be, can be thought as well. I mean, true self-reflection. Every day we have to reflect. We have to be accountable to ourselves. How do we spend our day? Have we accomplished anything today? Did we do it? I mean, did we hold up to the standards that we created for ourselves? The value that will create of ourselves? Are we giving out the value? Are people diminishing our value? Are we appreciating our value or whatever you want to put it?
Nicole O'Sullivan:
Yeah.
Adebayo Adeleke:
That is so awesome. Thank you so much. There's so much to learn. There's so much to unpack in this and trust me, Nicole, this is not the last time. We're gonna do more about this before I will squeeze everything out of it before you go back to Australia. Well, thank you so much for dropping over there and now you can leave the unfettered zone.
Thank you so much and see you next time we meet. Thank you so much.
Nicole O'Sullivan:
Thanks, so much. Bye.
Adebayo Adeleke:
Bye.
Outro:
Thank you for listening to Unfettered Podcast. I am your host Adebayo Adeleke until we meet again. See you on the higher ground. Sign up and be a part of the team. Be a Podotron at Podotron.com. Thank you for listening to Podotron.